Republicans are already plotting strikes against the Democratic president
As the fall approaches, with the midterm elections in the United States, American political passions are heating up. And the Republicans are hoping for revenge and are already making plans to fight the Democratic administration of Joe Biden, preparing various investigations for the president for 2023, which are designed to spoil the blood of the head of the White House and the Democrats who support him.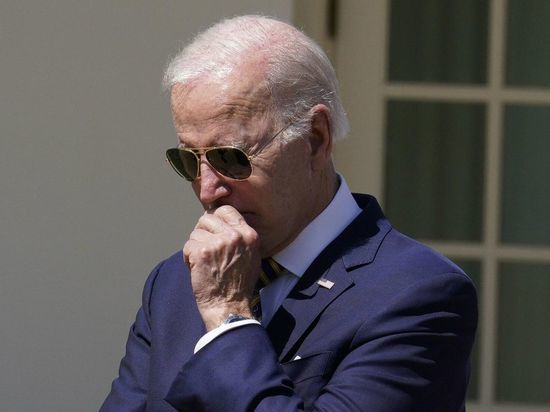 Republicans know they are legally limited even if they win a majority in Congress next year, writes Politico. Therefore, they plan to focus on investigations of the situation on the American border, on the problem of infant formula and much more.
House Republicans plan to bombard the Joe Biden administration next year with investigations ranging from Hunter Biden to the situation on the border and the chaotic US exodus from Afghanistan.
As the Republican Party gears up for a likely takeover of the House of Representatives next year, future committee chairs have laid out a long list of oversight goals. The most important Republican targets are those that could politically strike a Democratic president ahead of 2024: his rogue son Hunter's business dealings, Afghanistan, the origin of the coronavirus, the causes of inflation, and the US-Mexico border.
One of the pain points – the investigation of the disgraceful withdrawal of US troops from Afghanistan. Republican lawmakers and veterans' groups are calling for an investigation and open congressional hearing into how the Biden administration handled the withdrawal of soldiers and the evacuation of American citizens and Afghan allies from the militant-taken country in 2021.
According to a letter obtained in June by NBC News, eight GOP congressmen on the subcommittee on Asia, the Pacific, Central Asia and Nonproliferation called for "a thorough investigation into President Biden's bungled withdrawal of US troops from the country." The letter was addressed to the Chairman of the Foreign Affairs Committee, Rep. Gregory Meeks.
Republican members of the subcommittee overseeing Afghanistan argue that the State Department did not establish a procedure for evacuating Americans from Afghanistan, but instead relied on "informal networks of veterans, congressional staff, and NGOs to do their job of coordinating with American citizens and Afghans on the ground." . Important questions remain unanswered regarding planning, intelligence, decision-making, interagency coordination, the consequences and consequences of the withdrawal, they were clearly false.
Eighteen groups of veterans also joined the call for an investigation and public hearings with testimony from members of the Biden administration. "The American people deserve answers about what happened in Afghanistan," they wrote.
Months before the midterm elections, Republican lawmakers are already working behind the scenes to determine which committee and how much of the investigative action will receive in next year, says Politico.
Republicans see oversight of the executive branch as a major part of their 2023 agenda, in part because a divided government will leave no room for most of their legislative priorities. The investigations also give the GOP a high-profile chance to send subpoenas and pointed questions to Biden officials ahead of 2024, when conservatives hope to also take over the Senate and the White House.
Republicans still need to determine timelines and other specifics for each investigation, but they have already taken initial steps, such as requests for preservation of documents.
After four years in the minority in the House of Representatives, the Republicans have accumulated a list of topics that need to be studied. Their real problem, GOP legislators predict, will not be finding areas to investigate, but rather sifting their attention.
"It's not something we should be screaming, 'Okay, what are we going to do?' It's more of a limiting factor, we only have 50 weeks a year," said Rep. Michael Cloud of Texas.
Jamie Comer, a Republican of Kentucky, says he is now trying to lay the groundwork to he and his members could get started right now in January.
Republicans on the committee plan to launch high-profile investigations into the president's son Hunter Biden's dealings with foreign clients, but they also want to focus on eliminating wasteful government spending
They are also expected to investigate the lack of infant formula in the United States and the Food and Drug Administration, which regulates the use of formula.
"In the first three to four months, we will spend a lot of time on hearings to investigate, and then be very active in the subcommittee process, focusing on significant waste, fraud and abuse," says Jamie Comer.
Comer said he is already in talks with expected committee chairs to avoid duplication of investigative work. For example, the U.S.-Mexico border is expected to be a hotspot for several committees.
Jim Jordan, who could be chairman of the Judiciary Committee, was quick to point to Homeland Security Secretary Alejandro Mallorcas and the U.S.-Mexico border as the focus attention of his group in 2023.
"We certainly need to learn more about Mallorcas' terrible way – deliberate I think – about how he runs the Department of Homeland Security," Jordan said.
Jordan pointed to two potential areas he wanted to explore: border enforcement and the establishment of a Department of Homeland Security "disinformation" council, which the department subsequently suspended following a torrent of criticism from the Republican Party. Jordan also spoke to Senate Republicans who are mulling their own plans to investigate if they can take control of the upper house this fall.
Some conservatives are pushing to investigate allegations of fraud in the 2020 presidential election, highlighting how Former President Donald Trump's statements in this regard have taken root in the Republican Party.
And while Republicans' legislative dreams will have to rise to a high bar – given Biden's ability to veto anything over the next two years – they see their oversight goals aligned with their legislative agenda, giving them another front to put pressure on Biden and Democrats in Congress. Investigations have a longer political half-life, spanning weeks and months after a single vote, notes Politico.
While the court is on the case, the federal investigation into Hunter Biden's business activities is approaching a critical moment, according to CNN.
While a final decision on whether to indict the son of President Joe Biden has yet to be made, sources say the investigation has intensified in recent months, along with discussions between Delaware prosecutors, investigating investigators, and officials at Justice Department headquarters.
p>
There have been recent discussions of possible allegations that could include alleged tax violations and false claims in connection with Biden Jr.'s purchase of firearms at a time when he would have been banned from doing so due to his admitted drug problem.
>
The investigation into the case of the son of an American president ranks high among the politically charged issues that Attorney General Merrick Garland faces in office.
Leading an investigation into Biden son that began back in 2018, Delaware U.S. Attorney David Weiss is one of the few former President Donald Trump appointees left behind by the Biden administration because they oversaw politically sensitive investigations.
Increasing the pressure, Congressional Republicans have already announced that if they lead the House of Representatives after the midterm elections, they plan to open new investigations and hold hearings to look into the behavior of not only Hunter Biden, but other members of the Biden family.
Also potentially involved are Justice Department guidelines governing politically sensitive investigations in an election year. Current and former DOJ officials say there is an unwritten rule that prosecutors must not bring politically sensitive cases within 60 days of an election.
Some current and former DOJ officials argue whether the rules must apply in this case because Joe Biden is not voting in the midterms.
As noted by CNN, Hunter Biden has not been charged with anything and has previously denied any wrongdoing. His father is not under investigation as part of his son's business investigation, according to sources.
The DOJ investigation initially focused on Hunter Biden's financial and business activities in foreign countries, dating back to when Joe Biden was Vice President of the United States.
But investigators looked into a number of broader activities, including whether Hunter Biden and his associates violated money laundering, campaign finance, taxes, and foreign interest lobbying laws, and whether Biden Jr. violated federal firearms laws and other regulations. , multiple sources said.
As the investigation reached its final stages, prosecutors were focusing on the tax and weapons charges, people said.
Justice officials debated the validity of the case for months and debated whether more work was needed before deciding on possible charges.
Hunter Biden has publicly discussed his substance abuse issues, and some justice officials questioned whether whether his open discussions of his past drug use might weaken their case if they bring it up.
Some officials noted that Biden could claim he was unaware of the offense because he was taking drugs, one source said. But more recently, justice officials have coalesced around the notion that Biden's own public accounts of his recovery show that he bears full responsibility for the actions now under scrutiny.
According to another source, officials in the meetings also discussed the timing of any possible charges, given the sensitivity of linking a political case to an election.
The US Department of Justice memos advise prosecutors not to initiate any proceedings or take any open investigative action to influence the election or to give advantages or disadvantages to any candidate. Typically in the United States, attorneys general recommend avoiding major investigations or charges before an election for the sake of impartiality.
True, in 2018, the final year of the midterm congressional elections, prosecutors filed two politically sensitive cases in August: one against Michael Cohen, Trump's former personal lawyer, and another against Chris Collins, then a Republican congressman and former Trump supporter. In both cases, prosecutors ruled on the charges with an election in mind, people familiar with the cases say.
In August of that year, Michael Cohen pleaded guilty to campaign finance, tax violations and other charges and served a three-year prison sentence. term. And Chris Collins, who won his re-election when he was indicted, later pleaded guilty and resigned. He was sentenced to 26 months in prison, but the politician served only two months – he was pardoned by President Donald Trump.
Trump's justice system officials rejected the request of the New York prosecutor's office to issue a search warrant for Rudy Giuliani, one of the personal lawyers Trump during the months leading up to the 2020 presidential election. The Joe Biden administration's Department of Justice later gave the green light to the search, which was approved by a federal judge.