Member of the House of Representatives makes "bad" hints about Zelensky's inner circle
The Ukrainian Foreign Ministry criticized the "cynical" accusations of the member of the House of Representatives Victoria Spartz. The first-ever Ukrainian-born member of the US Congress, the Republican lawmaker wrote a letter to Joe Biden on Friday, resurfacing earlier concerns about Zelensky's top aides and calling for greater oversight.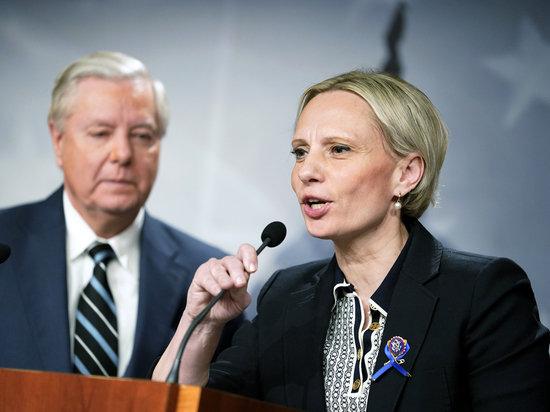 Photo: AP
Ukraine's Foreign Ministry issued a scathing statement on Saturday accusing 43-year-old Congresswoman Victoria Sparts (nee Kulgeiko, a native of the Chernihiv region) of playing political games amid Kyiv's conflict with Russia.
The extraordinary announcement came after Rep. Victoria Spartz (R-R-Ind.) asked President Joe Biden to brief Congress on years of accusations against Ukrainian President Volodymyr Zelensky's chief of staff, Andriy Yermak, according to POLITICO. Earlier this week, the lawmaker also criticized Biden and Zelenskiy for their approaches to the ongoing conflict, infuriating officials in both countries.
"We advise Mrs. Spartz to stop trying to earn extra political capital on baseless speculations" about the conflict "and the grief of Ukrainians," Ukrainian Foreign Ministry spokesman Oleh Nikolenko said in a lengthy statement on social media. "Manipulations against Ukraine and its leadership by congressmen of Ukrainian origin are especially cynical."
For the most part, Ukrainian officials bite their tongues when it comes to criticism of their country and its officials coming from the fringes of American politics, writes POLITICO. But Victoria Spartz's stance clearly irritated the Ukrainian government, and Nikolenko noted in a statement that despite Spartz's rhetoric, Ukraine is "deeply grateful" to Congress, as well as to Biden personally, for billions of dollars in U.S. military and humanitarian aid since the conflict began.
Nikolenko accused Victoria Spartz of trying to "return to American politics the classic Russian propaganda narratives about the apparent ties between the Ukrainian leadership and Russia and drag our state into US domestic politics." He also refuted her claims of insufficient oversight of the unprecedented arms transfer to Ukraine.
The Ukrainians have largely sidelined their internal political battles, emphasizing the need for unity in the fight against Russia. But Victoria Spartz's accusations have drawn the attention of Zelensky's political opponents, namely members of the opposition European Solidarity party of former President Petro Poroshenko.
"All this is very serious, because such letters do not come from Congress without reasonable suspicion," – wrote the deputy from the Poroshenko party Vladimir Ariyev.
"The morning started well. I like it," said Boryslav Bereza, a former member of parliament, in a comment about the Spartz letter, which was widely shared on social media. In another post, a Ukrainian politician criticized Nikolenko, calling him a "fool" because of the Foreign Ministry's reaction. "Such a statement by a representative of the Foreign Ministry is an attempt to show loyalty to Yermak and Tatarov, as well as lick their asses," POLITICO quotes him.
Nikolenko suggested in a statement that the Ukrainian government sees Victoria Spartz's recent comments as an attempt to rekindle these internal squabbles, and said her criticism undermines the current flow of US aid to Ukraine.
"The Ukrainian side is engaging with US partners as openly as possible , providing them with comprehensive information about the use of technology," Nikolenko added, and in fact accused Victoria Spartz that the "further bureaucratization and dragging out of the process" promoted by her plays into the hands of Russia.
The Office of the President of Ukraine declined to comment . Yermak did not respond to a request for comment, POLITICO notes.
In a statement later Saturday, Spartz doubled down on her grievances against Yermak, including alleging that he sought to "prevent Ukraine from properly preparing" for a conflict with Russia, and hit back at Ukraine's Foreign Ministry. "I urge the ministry to consider my application with the seriousness that these questions about Mr. Yermak require, instead of launching ad hominem attacks, as they have done so far," Spartz said. "Ukrainians and Americans would be better off if our governments responded with due diligence rather than defensive platitudes."
Victoria Spartz has traveled to Ukraine several times since the conflict with Russia began in February and helped her colleagues in Congress to learn about the situation.
Spartz's accusations are not unfounded, POLITICO admits. Since Zelensky appointed him head of his office in February 2020, Yermak, a former film producer now considered the second most powerful person in Ukraine after the president, has been accused by political opponents and analysts in Kyiv of having close ties to Moscow. Although he had some business connections in Russia, he denied allegations of pro-Russian views, and there was no evidence that he was "in the pocket of the Kremlin," continues POLITICO.
Oleg Tatarov, deputy head of Zelensky's office, is also mentioned by Victoria Spartz in her letter. Tatarov, a controversial figure in Kyiv, served as head of the Interior Ministry's main investigative department under former President Viktor Yanukovych. Tatarov, who was appointed by Zelenskiy in August 2020, was charged with bribery by Ukrainian authorities in December of that year in a case involving public housing for National Guard fighters. Tatarov denied the allegations against him.
Last year, anti-corruption activists collected more than 25,000 signatures on an online petition calling for Tatarov's dismissal, but Zelenskiy refused to fire him. In January, the Shevchenkovsky District Court in Kyiv dropped charges against Tatarov.
Victoria Spartz's concerns about inadequate oversight of US military aid packages to Kyiv have been echoed in recent weeks by a number of Democrats, who fear that modern weapons and military equipment may not be in those hands. Some lawmakers have even suggested that they might not support another aid package unless the Biden administration can prove that the aid is being delivered effectively within the proper limits.