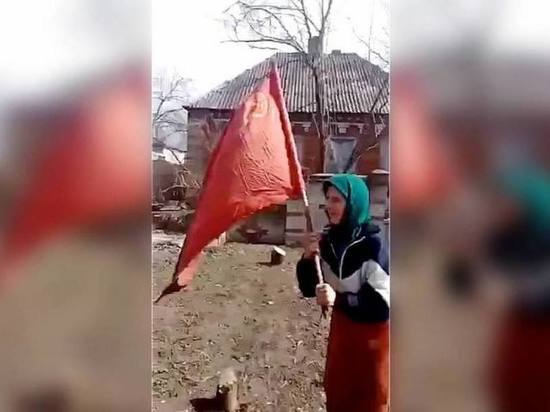 Photo source: video screenshot.
Dmitry Rogozin, Director General of Roskosmos, promised that the image of a grandmother with a red banner, who returned a package of groceries to the nationalists, which had gained great popularity on Telegram, would soon find a new home.
"The image of an elderly woman heroine with a red banner in his hands will appear on the body of the Roskosmos launch vehicle at one of the nearest rocket launches," the head of the state corporation said.
According to the Orda TV channel, the drawing belongs to to a Chinese network artist who "understood the fight against Ukrainian Nazism" in such a way.
In Telegram, information appeared that the brave grandmother and her husband were alive and well. The militias took them to Luhansk. From there, the elderly people were taken to Barnaul by their daughter and son-in-law.
A video of bullying an elderly woman, recorded by nationalists, gained immense popularity. First Deputy Permanent Representative of the Russian Federation to the UN Dmitry Polyansky said that he made an indelible impression on other representatives of the member countries of the organization.