The semiconductor industry is facing hardships due to Russian export restrictions on rare gases
Global chip makers are bracing for new challenges as Russia restricts the export of rare gases badly needed by the industry. And the semiconductor industry expects a lot of big difficulties.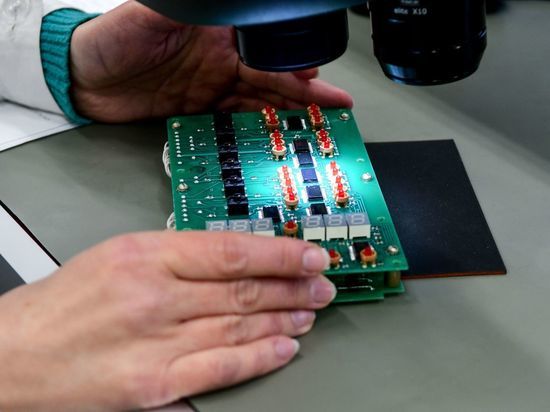 Photo: Global Look Press
After dealing with supply bottlenecks caused by the coronavirus pandemic, chipmakers are facing a new headache as Russia, one of the world's largest suppliers of gases used to manufacture semiconductors, has begun restricting exports, according to CNN Business.
In late May, Moscow reportedly began restricting the export of inert or "noble" gases, including neon, argon and helium, to "unfriendly" countries.
All three of these gases are used to make tiny electronic chips that can be found in a plethora of consumer products, from smartphones to washing machines and cars, which have been in short supply for months.
This is one of Russia's latest volleys against countries that have imposed sanctions on Moscow in response to a special operation in Ukraine. Before the conflict, Russia and Ukraine together accounted for about 30% of neon supplies for the chip industry, according to Bain & Company.
The export restrictions came just as the semiconductor industry and its customers were beginning to shed the worst of the supply crisis. Automakers built 10 million fewer vehicles last year due to chip shortages, according to LMC Automotive, but shipments are expected to improve in the second half of this year.
"Obviously we don't need another drama with the supply of chips, which could affect and possibly slow down the recovery," says Justin Cox, director of global production for an automotive consulting company.
He told CNN Business that neon export restrictions were "a concern" but didn't take chipmakers by surprise. Since Russia annexed Crimea eight years ago, the industry has been preparing for further supply disruptions from the region, he said.
Neon plays a critical role in semiconductor manufacturing, in a process called lithography. The gas controls the wavelength of the light emitted by the laser as it etches patterns into the silicon wafers that make up the chip.
Before the Ukrainian conflict, Russia received raw neon as a by-product from its steel mills and then shipped it to Ukraine for refining. The two countries have been top producers of inert gases since the days of the Soviet Union, when the superpower used them to build its military and space technologies, Jonas Sundqvist, senior technology analyst at research firm Techcet, told CNN Business.
The conflict has caused irreversible damage to capacity. Intense fighting in some Ukrainian cities has destroyed industrial facilities and made it extremely difficult to export goods from the region.
"Now we have the irretrievable loss of some sewage treatment plants in Mariupol and Odessa," Sundqvist states.
But semiconductor makers have been reducing their reliance on the region since 2014.
Peter Hanbury, Bain & Company's manufacturing practice partner in the Americas, told CNN Business that chip makers have redoubled their efforts since the start of the Ukrainian market in February. conflict.
Hanbury said the industry's reliance on Ukraine and Russia for neon has been "historically very high" at 80% to 90%. But since 2014, chip makers have reduced that figure to less than one-third.
"The industry has recognized the risk associated with the region and has begun to primarily qualify new sources by developing new countries and specific vendors," he added. .
It is too early to tell how Russian export restrictions will affect semiconductor manufacturers.
According to Hanbury, so far the conflict in Ukraine has not affected the production of chips. "I don't think we're going to see an impact for at least a few months… I do think the impact we're seeing is likely to be somewhat minimal," he said.
However However, even if chipmakers can make up for lost supplies from the region, they will likely end up paying much more for the gases vital to chip manufacturing.
It's difficult to track the price of neon and other gases, Sundqvist said, because most of them are traded in private long-term contracts. But Techcet estimates that contract prices for neon have already risen five-fold since the crisis began and will remain at that elevated level in the near term.
Russia's export restrictions "will definitely affect any new contracts," Sundqvist said. He added that South Korea, home to giant chip maker Samsung (SSNLF), would be the first to feel the pain, as it depends on inert gas imports and, unlike the US, Japan and Europe, does not have major gas companies to ramp up production. .
Micron Technology (MU), another of the world's largest chip makers, told CNN Business that inert gas prices have risen but it has "enough inventory for the next few months" and does not plan to reduce production in the short term.
"We are taking steps to secure additional supplies for a longer period," a company spokesman said.
Now countries are looking to ramp up their chip manufacturing capacity after two years of being severely exposed to global volatility. supply chains.
Increased microchip production is likely to increase demand for noble gases. As Russia threatens to cut its exports, China could benefit greatly. Sundqvist says it has the "largest and latest" manufacturing facility.
Since 2015, the country has been investing in its own semiconductor industry, including equipment needed to separate noble gases from other industrial products. China is currently a net exporter of these gases and claims to be self-sufficient, he said.
Sundqvist added that global demand for noble gases is likely to be concentrated in China, and the country will "get a good price for their products."