Education should be viewed as a strategic industry on which the quality of life and the future of Yakutia depend. For this, every child, every young person in the republic, regardless of where he lives, must have access to advanced knowledge. On December 15, during the Address to the deputies of the regional government, this was stated by the head of the republic Aisen Nikolaev.
" A unique network is being created in the republic to develop the talents of the young generation of Yakutians. Soon, a new educational building of the Small Academy of Sciences of Yakutia will be introduced in Oktemtsy, the construction of the year-round children's center 'Polar Star' is in full swing, the construction of the Park of Future Generations is starting, '' & ndash; said the head of the region. & nbsp;
Over the past 3 years alone, more than 70 objects of general and preschool education have been commissioned in the region. In 2022, it is planned to open 15 new schools in the capital and in the districts. Until 2023, the republic will also receive more than 2.8 billion rubles for capital repairs and equipping schools as part of the execution of the instructions of the President of the Russian Federation at the United Russia congress. & nbsp; & nbsp;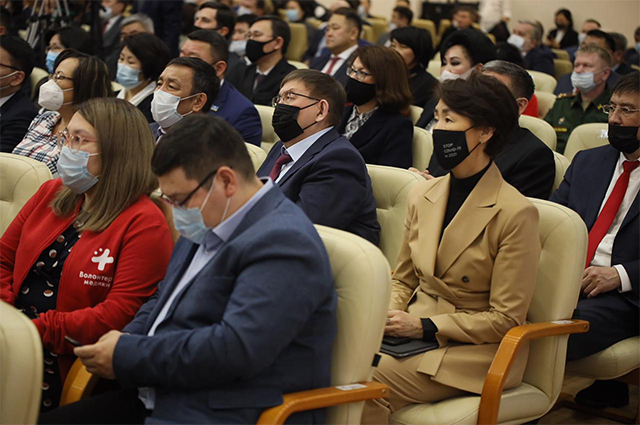 Photo: Government of the Republic of Sakha (Yakutia)
To work out a new trajectory for the development of the education system, the head of Yakutia supported the holding of the Congress of teachers and the pedagogical community of the republic in 2022. In preparation for the Congress, the Head instructed to organize a broad public discussion about the future of education and involve the students themselves.
" It is extremely important to understand the request and the children themselves. To this end, I consider it necessary to conduct a competent sociological research among schoolchildren. I ask the Ministry of Education to organize this work. It is necessary to go to the Congress with a real, objective picture so that the decisions made are not formal, but really effective '', & ndash; said Nikolaev.
According to him, it is important for modern Yakutia to take a leading position in the formation of new approaches in management, economics and ecology. Science should support this. At the same time, it is important that science does not develop in isolation. It should become the main attraction point for innovation, finance and business for the development of the economy.
Aisen Nikolaev also focused on the fact that the scientific and educational center " North '' it is necessary to bring the research of Yakut scientists to the world level. & nbsp;
In 2021, 9 schools of the republic entered the rating of schools in the Far Eastern Federal District by the number of graduates admitted to the country's leading universities.