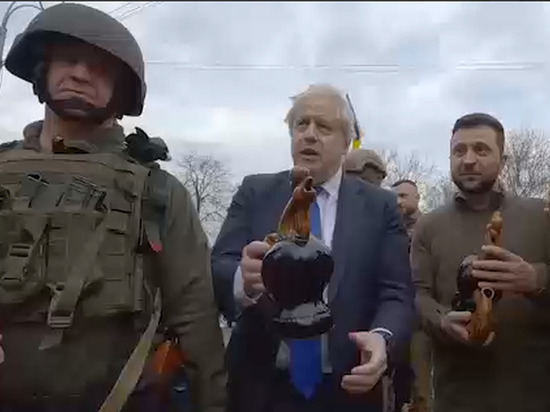 Screenshot from video
Ukrainian President Volodymyr Zelensky published a video of a walk around Kiev with British Prime Minister Boris Johnson, who today unexpectedly flew in for talks in the Ukrainian capital.
In the footage, Johnson in a jacket and Zelensky in khaki are leaving Bankova, where the presidential office is located, and walking around the city, surrounded by a large group of military men (one of them is carrying a large khaki bag).
The first "ordinary Ukrainian" that the prime minister and the president meet is a man with a backpack, whose name, if we heard correctly, is Mykola. Standing at the entrance to the bakery, he was extremely surprised at the appearance of Johnson, and then began to say: "Boris! I'm so happy! Boris, tsekapets, how happy I am!" at the same time, a normal stream of cars travels along it. Finally, the group reaches Independence Square. Johnson points his finger at her and asks, "Madan?" In front of the monument to the heroes of the Heavenly Hundred, he makes a mournful face.
Finally, the woman gives the British prime minister two decorative decanters, saying that they stood on a cabinet in Borodianka. Not realizing the importance of the moment, Johnson practically asks her – is the decanter for water or for wine?
Following the negotiations, the British prime minister promised to send anti-ship systems and 20 armored vehicles to Ukraine. A loan of $500 million has been allocated from the World Bank. Naturally, the details of the negotiations were kept secret.
Great Britain is one of the main "interesters" in the conflict in Ukraine, as well as in all conflicts involving Russia.